The best cakes from London bakeries delivered to your doorstep. We know you didn't need an excuse to order cake right now, but this is as good as any. 
When we started, CakeDrop was solely dedicated to delivering celebration cakes to London offices. Then when lockdown happened, and we were all binging Tiger King, we started doing postal brownies and other letterbox treats. With offices shut, we had to find a new way of dropping cakes and supporting the independent bakeries we work with. We're now chuffed to be able to offer whole cake delivery in London, bringing the best bakeries in the city to your front door — at a safe distance of course. 
The 2020 rollercoaster keeps going and with parties cancelled and plans changing on a weekly basis, it's important to find those moments of celebration and kindness where you can. Here are your excuses to order cake online if you're in London. 
Birthday cakes delivery 
As restrictions ease, birthday parties in gardens and parks are popping up across the capital. Perhaps you've had to cancel a getaway with friends for the big 30, at least cake won't let you down. Don't spend your morning in an endless queue for a Colin the Caterpillar, get ahead and order your birthday cake online from an independent London bakery. We work with some of the most delicious bakeries, so it's safe to say you're getting one of the best birthday cakes in London.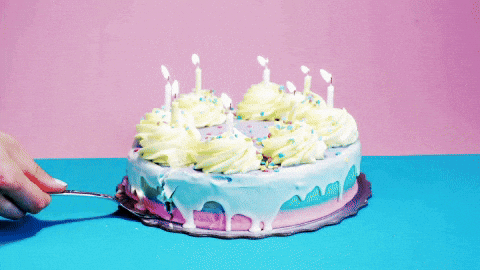 We should have said 'I do' party 
Most of us know someone who's had to cancel their wedding this summer. It sucks. No waterproof mascara, no macarena and most importantly no stuffing wedding cake into your handbag for the taxi back. We've heard a few people are having parties on the date of their original big day. Just like the dress, we suggest leaving the big wedding cake to reveal next year — but would it really be a party without cake? 
If you're in London and need a special cake delivered to mark what should have been your wedding day, get in touch. Even if you're not having a party, order a cake delivery, you and your fiance deserve it and at least now you won't have to share. 
Celebration cake delivery
Whether it's finding out you're expecting, changing careers, a wedding anniversary or just celebrating the everyday, there's a cake for that. Let's be honest, it's been a trying year. On paper 2020 doesn't scream reasons to celebrate. But, it's times like these that we have to find those pockets of happiness, those things to be excited about to keep us moving forward. Whether it's the little things like getting out of your pyjamas, or the bigger ones like learning a new skill, we have to enjoy every win, regardless of size. 
Send cake to a mate
If you're reading this and you live outside of London, we're sorry we can't get deliver a whole cake but we do have postal treats. If you have a friend or loved one living in the big smoke who needs cheering up, why not send them a cake delivery? Perhaps it's your best friend's birthday and you can't travel up — why not get a birthday cake delivered? Maybe a family member is heading to the registry office instead of the big day they'd planned. Why not order a cake online so it's waiting for them when they get back home? 
There are plenty of reasons to order cake online. Let's be honest, you didn't need these excuses. What's important is finding reasons to be happy and celebrate where you can. 
"Where there is cake, there is hope. And there is always cake." Dean Koontz